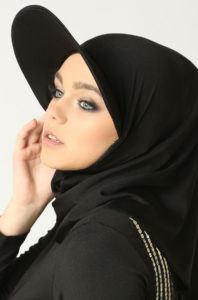 Many people would initially suspect that the burkini comes from the Middle East, or another Islamic country. Nothing could be further from the truth! The burkini originates from the brilliant white beaches of Sydney, Australia, the city where Aheda Zanetti designed this garment.
Originally Lebanese Zanetti, who moved to Australia as a two-year-old toddler, she came up with the idea while watching a niece's netball match. She thought it was terrible to see how the girl wore her uniform over her Islamic, more modest, outfit. "When I looked at her, she looked like a tomato" (translation: "When I looked at her, she looked like a tomato").
Zanetti, who did not wear a veil or head covering himself, decided to design an outfit that would be suitable for such occasions. And there was the burkini, a contraction of the words "bikini" and "burka" – although the piece of clothing is technically neither.
People often associate the word 'burkini' with wearing a burka – which is absolutely not the case. The burkini, for example, does not cover the face or, in many cases, the head. In fact, a burkini is not much more than a surf suit, if you look at it that way! The association with 'bikini' does not extend further than that it is both pieces of clothing in which you can swim.
The burkini is the favorite choice of women who for various reasons do not feel comfortable displaying (much) exposed while swimming, be it religious reasons, be it health reasons, or be it psychological reasons. For these various reasons, they feel more confident and comfortable in less concealing swimwear.
That is why we prefer to use a term that better describes what it actually is: a covering swimsuit, or covering swimsuits that are less exposed and concealing – but let those women who prefer this cover their bodies.
We offer two types of covered swimwear: a 'fully covering bathing suit' or a 'semi-covering bathing suit'.
A 'covering swimsuit is a fully covering swimsuit, with long pants and long sleeves and a headscarf / cap. You can get this in three different fabrics; you can read more about it on this page.
A 'semi-covering bathing suit', on the other hand, is a half-covered bathing suit, for example with three-quarter pants or with a short sleeve or sleeveless. Almost all 'semi-covering bathing suits' that we sell are made from Lycra.
A distinction can also be made within the types that we offer based on the price level. To make it easy, we have divided our offer into three types of quality / price.
First, we offer the 'H&M models'. These are beautiful and stylish – and very affordable! – but often slightly heavier in material. They also wear out faster due to exposure to sunlight and salt water. The price of such a fully covering swimsuit of this type is around 30 euros (women's model).
Then there are the 'Zara models'. These fashionable bathing suits have a price that is in the middle, and are also of good quality. These can easily be washed in the washing machine; its substance is also clearly thinner than that of the cheaper models. These fully covering 'Zara models' can be recognized by us at a price that is between 50 and 65 euros (women's model).
Thirdly, within the last price category we offer a type that we like to call the 'Tommy's' among our models. These are made from paper-thin fabrics that are not translucent and very light. At the same time, the fabrics are hip and incredibly fashionable. These models can last for years and come from very special suppliers. The prices of the fully covering 'Tommy models' range from around 65 euros to our most expensive one for 110 euros (women's model).