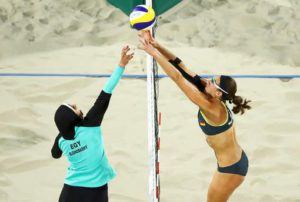 The burkini is a sensitive subject in contemporary media. Certainly with news reports about swimming pools or cities that refuse the burkini, such as the French city of Cannes, which received a lot of attention after they introduced a burkini ban.
The majority of these prejudices against the burkini stem from ignorance about what it is and – especially – what it is not. The designer and inventor, Aheda Zanetti, initially devised the garment to make life easier for women such as her niece; who struggled to combine their more covering clothing with sporty outfits.
However, this is certainly not limited to ladies from a certain religion. After all, there are more reasons than just faith to choose to cover yourself more. This is also clearly visible to the public that comes to us – with pleasure! – purchase burkinis. For example, we have already seen women come by with an annoying scar, amputated breast (s) or other medical ailments that they would rather not expose themselves too much, literally and figuratively.
In addition, there are also women who prefer to hide some kilos, and who, for example, no longer want to wear a bikini because of their weight. Or women who feel more comfortable for psychological reasons with more substance around them. For all these women, we simply cannot describe how incredibly happy they are when they purchase a covered or partially covered bathing suit from our collection.
One of our clients from Amersfoort, for example, said the following: "I could not swim for a long time from a medical perspective. The burkini was really super tasty. I felt completely free. Even though you are wearing the burkini, you don't feel it in the water. I swam wonderfully with it every day. Really a top thing! Thank you Elif. "
We believe that every woman has the right to be able to wear something fashionable and at the same time comfortable; and we have put together a nice offer for that. After all, a surf suit is also fully covered: why is this still possible on the beaches where there is so fierce protest against the burkini?
It is also a matter of making people feel accepted as they are; with their unique norms and values. An example of this is that the Dutch government has made integrators from Syria obliged to obtain a swimming diploma. Why should these people be wearing a bathing suit, thereby completely pushing aside their own standards? We feel honored that in the past year we have been able to help dozens of Syrians with a burkini.
Many Dutch swimming pools, including a number in Utrecht, but also in Rotterdam, Amsterdam and Amersfoort, are now also participating in an initiative whereby these women can 'just' swim in a burkini. Especially for this target group, we did our best last year to add a number of cheap, affordable models to our collection. After all, these refugees cannot generally afford expensive bathing suits. What made this extra special is that at a certain point we also got non-Muslims on the phone, who together with the Syrians bought burkinis. Great to see how these fantastic volunteers have worked for these groups of Muslims in the Dutch swimming pools.